Featuring an integrated OEM-chassis and the widest cleaning deck in its class, the Triverus MCV sets the standard for mobility and productivity.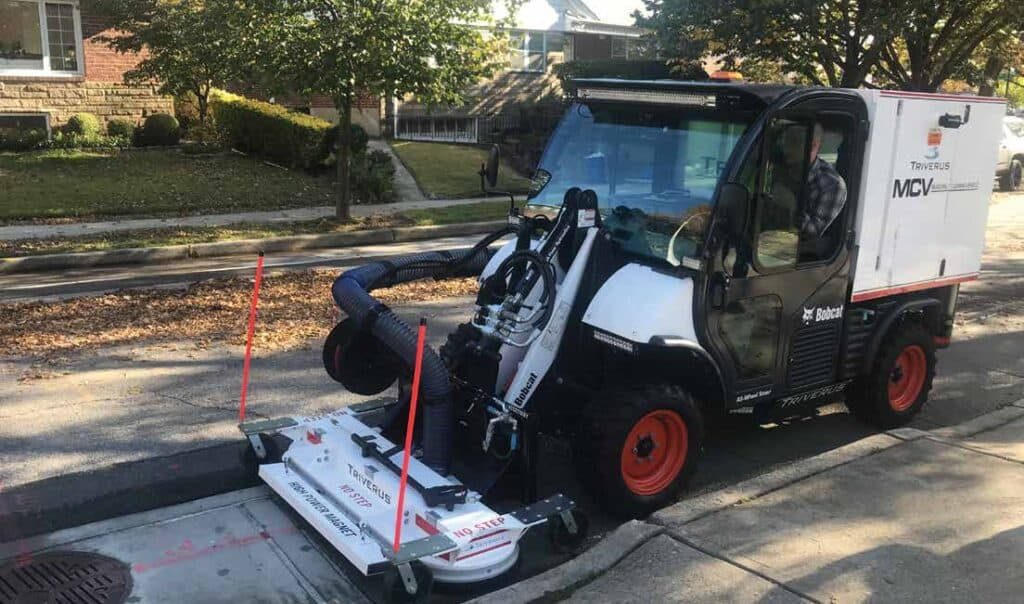 Performs pervious pavement restoration, storm water pollution prevention, parking facility cleaning, and more!
Designed and built on an OEM-maintainable chassis with the latest MCRRS technology
With all-wheel steering and a turn radius under 9 feet, the MCV easily maneuvers in tight spaces
All stainless water path with 3,800 psi of water pressure
60″ cleaning platform with lift-arm float easily moves over uneven surfaces
1,000 CFM vacuum recovery
Also available on GSA contract 47QMCA18D000Q
The Triverus Municipal Cleaning Vehicle (MCV) integrates Triverus 3800 PSI spray cleaning and recovery technology onto a Bobcat® Toolcat™ all-wheel steer carrier. This packaging provides maximum flexibility for surface cleaning in congested areas such as airport ramps, airside loading bridge and terminal areas, walkways, dock areas, and enclosed parking structures. An overall height of 84 inches gives the MCV free reign in almost any covered parking area.
The 60-inch wide cleaning deck is the widest available in this class of cleaner and is the most productive in the industry. The cleaning deck's position in front of the vehicle allows cleaning in close quarters, individual parking slots within an occupied parking garage, and up close and personal with guardrails, buildings, and other obstructions.
The patented recovery system retrieves virtually all liquid used in the spray process promoting rapid drying during prepaint surface prep for improved paint process efficiency and paint adherence. Government-sponsored tests have proven that Triverus MCRRS technology removes, recovers, and contains more rough and fine solids from underlying surfaces than any mechanical sweeping or low-pressure spray and brush cleaning system. Triverus' jet spray enables cleaning below grade as well as effective cleanout prior to crack sealing operations.
The MCV is unmatched in achieving regulatory compliance through removal and containment of restricted or controlled materials that are more and more often the target of EPA regulations and inspections. The MCV achieves excellent cleaning results with pure water only and does not require chemicals or soap solutions of any kind to do its work.
The Triverus cleaning platform is mounted to the Toolcat™ carrier by means of the standard implement attach point. The quick disconnect single spray liquid hose and electrical connector allow removal of the cleaning and recovery head within minutes, enabling brooms, snow blowers, plow blades, or any other Bobcat® attachment for year-round use. The rear-mounted recovery module can be removed within 90 minutes, totally freeing up the carrier for any other Toolcat™ application desired by the customer.